Transparent Masks are an ADA issue
The Communicator: A Transparent Medical Mask
Colorado Hands & Voices together with SafeNClear, Inc. in Davidson, NC, ar
e proud to announce a partnership to help promote the Communicator Surgical Mask and the mission of CO Hands & Voices in promoting greater access for children who are deaf/hard of hearing. A percentage of each purchase of SafeNClear transparent medical masks will benefit parent-to-parent support through Colorado Hands & Voices. The nonprofit is the flagship chapter of Hands & Voices and supports families raising a child with any level of hearing difference without a bias around communication mode or technology use with information, networking, and training for families of kids through age 19.
Spread the word about SafeNClear Communicator Surgical Masks.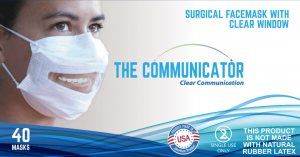 Use this Promo Coupon Code when you order: COHands at checkout on the SafeNClear website.
Is your clinic or dental office using these masks? Suggest it to them as an ADA issue. You can support CO H&V at the same time.
The Communicator Surgical Mask:
Is the first and only FDA-approved see-through surgical mask
Was created by a Deaf woman who saw a need to improve visual access (See more here)
Increases comfort and sense of safety with access to facial expressions
Useful in any medical, dental, outpatient, community or hospital setting
Can be used by anyone who might need to wear a mask
May reduce miscommunication and medical errors
Comes in a 40 pack or more purchase, with elastic earloops, and an adjustable nosepiece design.
Made in the U.S.A. Latex-free.
As a professional sign language interpreter working in medical settings, many occasions require me to wear a mask when interpreting for patients. When all of the medical professionals in the room are wearing masks, it can become a scary and anxiety-inducing situation for any patient, especially Deaf/Hard of Hearing patients who often rely on lip-reading and facial cues to meet their communication access needs. Not only does "The Communicator" mask allow you to share a supportive and comforting smile, but it also removes a barrier to seeing vital mouth movements critical for a clear understanding of the message by the Deaf/Hard of Hearing patient. For years, I have been wishing I had this kind of mask available, and am incredibly grateful to be able to utilize them in my future medical interpreting work.

Transparent Masks are an accessible communication issue.
ADCO Hearing Products

is taking requests for their handsewn masks here
Colorado sources of hand-sewn masks and more resources: here